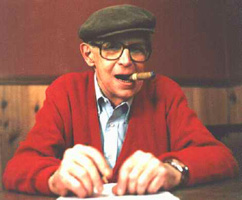 SPARKY GOODMAN
---
Frank "Buster" Nashland, who portrayed Sparky Goodman on The Spud Goodman Show for over a decade, passed away Saturday, March 19, 2005 in the company of many of his long-time friends after a battle with cancer. Although Sparky will always be remembered as a self-centered, scheming, lecherous conniver, the man who brought that character to life was a sweet, caring, generous, lovable gentleman who was greatly admired by all who met him. His great sadness was that his loving and supportive wife of many years, Shirley, preceded him in his voyage to eternity by two years.

Frank will be greatly missed by those of us he has left behind.
---
Spud's father, Sparky, a life long habitual gambler and womanizer, was a distant figure to his son. Sparky was for a time in the late 1940's a disc jockey at a Mutual / Don Lee radio station in California.
Sparky was by his own definition, the member of the family that "knows show biz."
Sparky continued to push his idea for a new network game show called Sparky Goodman's Thong-A-Thon. He felt that this show could revolutionize the world of game shows!
Sparky was always a fast buck artist and a constant irritaion as he attempted to push his own career while occasionally offering bitter critiques of Spud's talents as a talk show icon.
---
---
Copyright 2000 Spud Goodman Productions